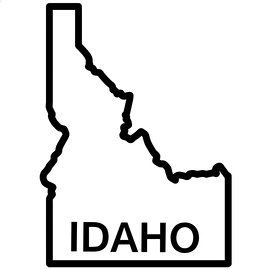 Idaho has earned its bragging rights through its rich history, geology, natural beauty and, of course, its Famous Potatoes. Read on for Idaho highlights and also absurd Idaho laws that'll keep folks entertained at your next social event.
Idaho's name began with a deception. George M. Willing, a mining lobbyist in 1860, presented Congress with a new territory he wanted to name 'Idaho'. Willing claimed the name was derived from a Native American word meaning 'Gem of the Mountains'. Once Congress discovered Willing had made up the word Idaho, they chose to name the new territory 'Colorado'. Regardless of the origin, Idaho became common usage across the United States, so when Congress created another new territory, they named it Idaho. How lucky are we to be called the Idahoans?
It was later discovered the state was rich in over 240 minerals, making Idaho a true 'Gem State'. Most of these treasures are rare and can only be found in museums, private collections or through gem dealers. Although gold attracted the first white settlers in the late 1800's, silver is Idaho's cash cow today — Idaho mines almost 45% of all silver in the United States.
Factoid: The Star Garnet can only be found in Idaho and India. You won't find these rare four or six-ray stars in any commercial jewelry store. But you can find them if you go rockhounding in northern Idaho. The US Forest Service operates the Emerald Creek where anybody can extract up to 5 pounds of Star Garnet with a permit. Click here for more info.
There are 3,100 miles of rivers. No other state has this bragging right. These rivers are lifelines for ranchers and farmers, a playground for outdoor enthusiasts and a refuge for fishermen seeking solace on the banks of their slow-moving waterways.
Factoid: The Salmon River, 'The River of No Return', is the longest free-flowing river contained within a single state.
The next time mountains start calling your name, you better listen to their echo! Chances are they are reverberating throughout Idaho's 81 mountain ranges. Yes, that's right, 81! The loudest and clearest echo will be bouncing around the Lost River Range located within the Challis National Forest in eastern Custer County — home to Idaho's highest peak, Mount Borah (12,667').
Idaho is 83,557 square miles with two-thirds of it being federal land including 4,792,969 wilderness acres. Now that's a HUGE playground worth exploring!
Idaho's Hells Canyon and Shoshone Falls were carved from the flood of Lake Bonneville about 15,000 years ago. Hells Canyon river gorge is 7,900 feet deep compared to Grand Canyon's 6,000 feet. The Shoshone Falls in Twin Falls plunges to an impressive depth of 212 feet – over 40 feet further than Niagara Falls.
The Craters of the Moon National Monument was established in 1924. Volcanic eruptions and lava flow created 83 square miles of spatter cones and fissure vents beginning 15,000 years ago and lasting until 2,000 years ago. A visit to this National Monument may have you believing you are walking on the moon. Go ahead, take one giant leap for mankind…I dare ya!
The Sun Valley Lodge in Sun Valley was America's first destination ski resort, built in 1936 (celebrating its 80th birthday in 2016!). All you needed was a quarter to ride on the first alpine chair lift. Beginning in September 2014, the Sun Valley Lodge went through a major renovation. Don't worry folks…the bowling alley is still there boasting six new high-tech regulation-length lanes.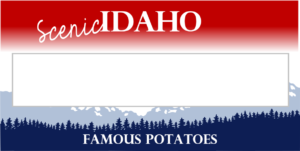 Since 1950, Idaho has been the United States top potato producer – supplying two-thirds of all processed potatoes. This is why Famous Potatoes has been Idaho's slogan on license plates since 1957.
Primitive hunting tools and fossils of extinct animals found at Wilson Butte Cave (east of Shoshone) can be traced back to 12,500 B.C. Imagine being a bipedal roaming the Idaho countryside in those good ol' days!
As promised, here are some quirky Idaho laws. There has to be a reasonable explanation behind them. Doesn't there?
It is illegal for an Idahoan to give their sweetheart a box of candy weighing over 50 pounds. If you're the recipient, indulge yourself in mountains of chocolate! If you're the giver, you'll spend the rest of your life looking over your shoulder.
Smile! It's illegal to walk around with a frown on your face in Pocatello, Idaho.
If you're over 88, you can't ride a motorcycle in Idaho.
Don't ride a merry-go-round in Idaho on a Sunday – you'll be breaking the law!
You would be considered a criminal if you were to fish from a camel's back in Idaho or fish from a giraffe's back in Boise. Huh?
You don't even have to break the law to end up in jail! Visit solitary confinement, cell blocks and the gallows at the Old Penitentiary in Boise.
Adventure tourism, history and culture are a part of Idaho's heritage. Whether it's the mountains or rivers that bring you to Idaho, you'll always find an excuse to come back. This hidden Gem State is more than just Famous Potatoes — it's your gateway to unexplored escapades!
Guest Blogger: Erica Cole, Office Manager, Idaho Rocky Mountain Ranch
Idaho State facts:
Bird: Mountain Bluebird
Horse: Appaloosa
Fish: Cutthroat Trout
Fruit: Huckleberry
Flower: Syringa
Gem: Star Garnet
State Motto: "Esto Perpetua" meaning "It is forever"