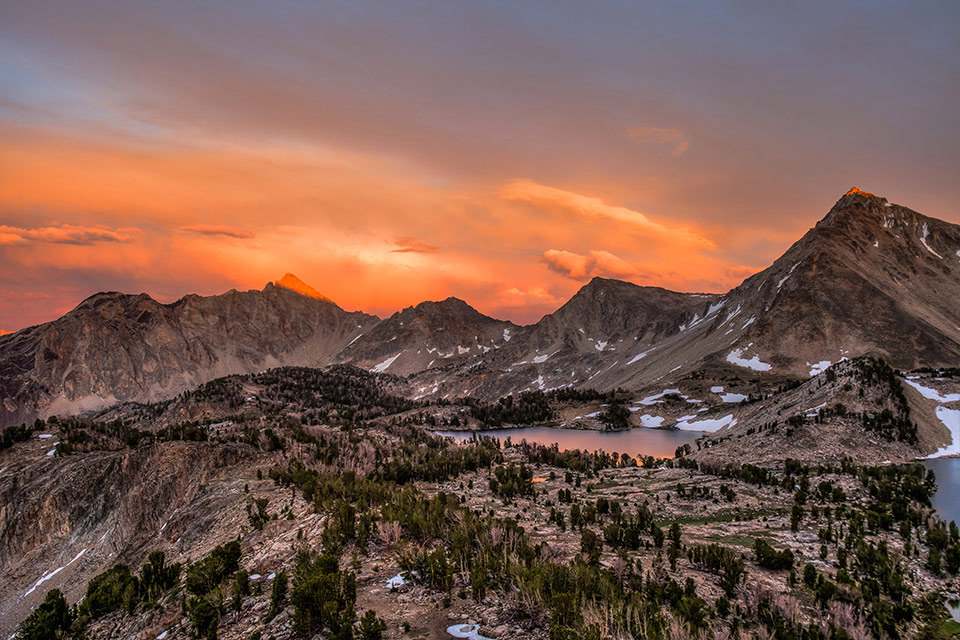 Boulder Chain Lakes, Boulder-White Clouds – Photo courtesy of Ed Cannady Photography
The unspoiled beauty we enjoy at the ranch and in the region is the result of decades of hard work and dedication of many. The most recent effort has yielded the "gold standard of protection" wilderness status to the Boulder – White Cloud Mountains.
The August 2015 passage of HR 1138/S258,  sponsored by Rep. Mike Simpson of Idaho, established three new wilderness units totaling 275,655 acres: Jim McClure-Jerry Peak Wilderness (117,000 acres); White Clouds Wilderness (91,000 acres); and Hemingway-Boulders Wilderness (88,000 acres), east of Idaho Rocky Mountain Ranch and the Sawtooth Wilderness.
As is usually the case with land issues in Idaho, the establishment of the Wilderness areas was fraught with controversy as the often competing interests of motor vehicle enthusiasts, ranchers, conservationists and recreationists were weighed and considered. It is a testament to the efforts of Rep. Simpson, The Wilderness Society, Idaho Conservation League and Sawtooth Society, among others, that compromises were reached, allowing the protection of this unique area.
The Boulder-White Cloud Wilderness includes the origin of the headwaters of four major river systems, big horn sheep, cougar, wolf, wolverine, mule deer, elk, moose, mountain lion and black bear habitats, as well as the longest (900 mile) steelhead migration and highest elevation migration of Chinook Salmon. Hikes abound, and when you visit The Ranch, make sure to take a look at our Wilderness Notebook, which provides hike descriptions, maps and additional information about the Boulder-White Clouds Wilderness.
Sawtooth National Recreation Area and Jerry Peak Wilderness Additions Act provides a summary of the Wilderness Bill. Simpson's Boulder White Clouds Bill signed by President gives more detailed information about administration, use, and grants and support for services for Custer County and surrounding communities. More spectacular photos may be found here.
Guest Blogger:  Sandra Beckwith, Lodge Manager