Celebrate the summer season in the Sawtooth Mountains at the Idaho Rocky Mountain Ranch in Stanley, Idaho for a two-day wine event, Friday, July 21, and Saturday, July 22, with Boise, Idahos Cinder Wines. The Ranch invites the public for dinner or an overnight stay during the Cinder Wines tasting event, which will include Cinder Wines owners Melanie Krause and Joe Schnerr. Cinder Wines will present three occasions for guests to taste and learn about Cinder Wines and the Idaho wine industry.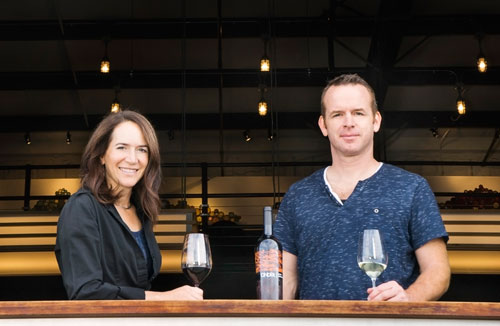 Melanie and Joes passion for wine making and advancing the reputation of Idahos wine industry are evident in their wines and their enthusiastic presentation of them, said Ranch Lodge Manager Sandra Beckwith. Were pleased to welcome them to the Ranch to serve and talk about their wines with our guests. Besides crafting wines, the couple have interesting stories as individuals and a family, that highlight the unique character of their Idaho wine business.
Krause, Cinders Winemaker, has extensive experience pursuing her passion for making fine wines. As a vineyard technician at Stimson Lane in Washington in 2001, she moved on to Chateau Ste. Michelles Canoe Ridge Estate Winery, as enologist, then Assistant Winemaker. In 2006 Krause returned to Boise after marrying Joe Schnerr and started a winery consulting business, which enabled her to visit most of the cellars and vineyards of Idahos producers. After making a small amount of Syrah and Viognier in 2006, based on her knowledge of Idahos wine industry Krause decided to start her own brand, Cinder, named for the layers of volcanic remnants found under the vineyards of Idaho.
Living in a beautiful state while making, eating and drinking beautiful products is my favorite part of working in the Idaho wine industry, said Krause.
Schnerr, listed officially as The Husband on cinderwines.com, directs sales and marketing for Cinder. His favorite part of working in Idahos wine industry is telling the story of the missing jewel in the crown of Northwest Wines.
Idaho is the late comer to the party, but our quality is on par with those of Oregon, Washington and British Columbia, said Schnerr. I love to hear stories from people describing when they first realized that our wines are for real.
On Friday, July 21, Krause, winemaker, and Schnerr, Cinders marketing director, will preside over a complimentary tasting of their wines during the appetizer hour for all dinner guests. Following this event, they will present four Cinder wines, paired to a coursed dinner prepared by the Ranchs Executive Chef Clinton McCann, and served inside the Idaho Rocky Mountain Ranch log cabin style lodge, which is on the National Register of Historic Places. There is a fee for participation in the paired offerings during dinner.
On Saturday, July 22, Krause and Schnerr will lead a tasting of four Cinder wines chosen to complement the evenings Southwest Grill menu, served buffet style on the front porch at the foothills of the breathtaking Sawtooth Mountains. The bluegrass trio Dewey, Pickette and Howe will play an acoustic set on the lodge porch, as guests enjoy appetizers, the tasting and Southwest Buffet. There was also be a fee for participation in this event.
In addition, Magnums of Cinder Wines will be raffled and presented to participants during the wine tasting and pairing events. Reservations are required, with a fee for participation in the paired tasting, and may be obtained by emailing info@idahorocky.com or by calling (208) 774-3544. Guests may reserve solely for dinner and the tastings, or to stay at the Ranch, with breakfast, lunch and dinner meals included.